With a dwindling population of Holocaust survivors, how can we prevent the Holocaust from becoming a distant memory and actively help the next generation relate and connect to the Holocaust on a personal, emotional level?

Creating Memory is a free arts-based initiative for Holocaust education, based on the successful Hebrew program יוצרים זיכרון. Through the creative arts and exploration of relatable themes, students can connect to the Holocaust in new ways. This student booklet includes a collection of poems and other creative medium with corresponding prompts/activity ideas for promoting student expression. We invite teachers to complete the form below to receive the booklet via email.
Additionally, we offer complimentary online trainings with practical ideas and implementation techniques for using 'creating memory' for Jewish day school and informal Jewish educators. Trainngs are geared towards middle and high school educators across the globe. Teachers who request the booklet will be notified about upcoming sessions.
CREATING MEMORY: Receive your Booklet
"Via the creative process I was able to find the words, to express the pain and to mourn and thus to process the traumatic memory that is the Holocaust. Silence without connection to memory is not commemoration. It is only when the silence can be wedded to real emotion that the silence have any commemorative weight. We have given the coming generation the historical facts to the Holocaust but are failing to connect them  to the Holocaust emotionally.
'Creating Memory' is an initiative to help the next generation connect to Holocaust remembrance and thus insure the continued memory of this tragic event for generations.
The program is a two stage process the first is making the Holocaust more accessible by reading of poetry containing affective themes from the Holocaust such as family and belonging, memory and silence, place and displacement, faith and hope. These themes are relevant also to current generations and allows them to understand and access the emotional impact of the Holocaust and not only its historical manifestations.
The second stage of the process is to guide the student to channel these emotions into a creative outlet that allows them to feel part of the Holocaust narrative. It is now a narrative in which they can feel part of via their creativity. The active participation of the coming generations in voicing their own form of Holocaust remembrance is vital in ensuring that Holocaust remembrance stays vibrant and relevant with the passage of the years."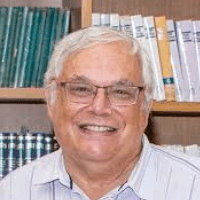 Martin Herskovitz
Project Creator
Martin is a Second Generation to Holocaust survivors. His poetry deals with his attempt to find a narrative from the silence and a way to process the traumatic memory of the Holocaust that was transmitted to him. For more information or any questions about his project Creating Memory, please contact him at hmartin@bezeqint.net.