Teacher, Learner, and Content in a Context
The Mandel Teacher Educator Institute (MTEI) engages its participants in improving the quality of teaching and learning in Jewish spaces through an intensive 2-year cohort-based professional learning program and ongoing graduate learning. At the end of 2019, a small group of graduates and leadership began planning our biennial 2020 Graduate Conference, an opportunity to share successes and collaborate around challenges of leading professional development for Jewish educators. As the COVID-19 pandemic persisted, the group embraced the challenge of transitioning an in-person conference into an online four-day Graduate Gathering. With this pivot, the planning team found itself reflecting on the changing nature of teaching and learning and invoking MTEI's Principles of Professional Development in new and expansive ways. The shift in format drew the planning team's attention to Teacher, Learner, and Content in a Context, the MTEI principle which came to influence every aspect of planning and organization of the professional learning gathering. We recognized that the key to a successful online, or hybrid, event, lies in considering each of the relationships within this triangle of teacher-learner-content and being intentional about the context in which those relationships play out. This meant we had to think not only about the programmatic content of the Gathering, but also about how we would foster those relationships before, during, and after the event.
Building Relationships Before the Event
We knew that relationships and expectations were forming long before the professional learning sessions began. Whether in-person, online or in hybrid spaces, it is necessary to consider the different relationships that will be at play. We spent many months ideating and prototyping an interactive set of materials to send to participants in advance of the Gathering. This was no ordinary swag box. A cover welcome letter described the interactive contents of the mailing, giving instructions that the folder remain sealed until we opened it as a community during our opening session. The folder included materials to be used during our time online throughout the Gathering (e.g., "coffee-break-to-go" with a branded coaster, Bingo card highlighting personal and professional connection opportunities during the learning, and a Comment Cube that attendees built together as part of our opening program).
Using these pieces to interact across space and time helped us develop new understandings regarding pre-program mailings. Material sent to participants prior to a professional development program or gathering must physically engage each participant and be something that participants will use together. They must be playful, warmly inviting opportunities for individuals to share their personalities with each other in the gathering space. They must be intentionally connected to the learning and learning goals of professional development, in our case tangible items within an ethereal digital space embodying our principles and connecting the learner (along the relational triangle) more intimately with both the content and other learners.
We also maximized opportunities for asynchronous online connections. We developed an online interactive directory to engage participants with each other. We designed, shared, and regularly updated a virtual conference binder as a live "homebase" for everything conference-related. Our participant WhatsApp group created a feeling of collective excitement and community. Participants were invited ahead of time to download and play with the core apps and online platforms that we would be using. Importantly, we offered multiple ways to ask questions and get help, various video tutorials and infographic tip sheets, and a carefully planned social media campaign across multiple communication channels to share the aforementioned.
Warmth and Inclusivity in Online Spaces
While we initially mourned the loss of cherished time together in person, we came to understand that, with intentional design, our online space had significant potential for being just as, if not more, inclusive. Our graduates hail from a wide swath of Jewish educational contexts across North America and Israel; moving the Gathering online made participation feasible for many more individuals.
Our online professional learning was also more flexible. While our Gathering was entirely online, participants were straddling online and in-person spaces and obligations. We encouraged participants to be present for as much or as little as their personal and professional schedules allowed, maximizing our asynchronous digital spaces to build connections and maintain momentum from session to session and day to day.
Our team was cognizant of how we were welcoming everyone from wherever they were physically, emotionally, or intellectually. In designing the schedule and sessions, at every turn, we asked ourselves: What will this transition look like and feel like? How can we ease this transition? How will we provide immediate support when needed? How will participants move in our online space as well as their home spaces? In response, we crafted a schedule that included frequent breaks of differing amounts of time and parallel scheduling of similar sessions across multiple days. Each day started and ended with joyous, purposeful social/networking time. Faculty workshops, which are often a highlight for participants, were at parallel times on successive days.
We also considered the visual experience of the online space and how it, too, could contribute to a welcoming, warm environment. We spent time branding and designing those online spaces, choosing images, color palettes, and language that welcomed people into a learning atmosphere. Our landing page became a "lobby." Each meeting "room," making use of digital images, had a different feel related to the content of the learning. We encouraged everyone to take pictures and make note of quotes that were collated into a digital gathering scrapbook. We also designated daily "themes" (for instance, "ugly" Hanukkah sweater day) that helped make learning at home feel a little more joyful and connective.
To encourage our facilitators to sustain the same intentional approach to relationships in their sessions, we asked each presenter to indicate how they would welcome participants to the space, introduce participants to each other, make the session interactive (no lectures), and invite participants to consider applications of the session content to their respective work. We provided a lesson plan template that noted these components, as well as a prompt for pre-planning how digital tools would be used in the session. The planning team reviewed these lesson plans with each presenter, assisting them in developing parallel relational approaches across the diverse conference offerings. In addition, we offered each presenter the opportunity to be matched with a thought partner for co-planning.
The intentional design that shaped our online learning spaces carried into our evening social programs. As with any in-person gathering, the less formal social interactions played an integral role in establishing new relationships and reconnecting old colleagues. We hosted a book club, cohort reunions, and, perhaps most memorably, an online scavenger hunt that spanned the physical and digital realms to connect participants in new ways, engaging them as humans needing connection and as educational leaders seeking professional development.
Digital Technologies that Embody Our Values
While many tools exist to support this kind of welcoming and inclusion, we highlight a few here that we found to be particularly agile in creating the relational context and in bridging online and in-person spaces. We aimed to counter the detached feeling of being in a static 2D video frame. We chose platforms that would give the feel of movement and intimacy within the online space (e.g., SpatialChat), be easy to access and use online and offline (e.g., Goosechase), and were customizable to provide an environment and a mood (e.g., QiQoChat). While the aforementioned platforms were new to many of our participants, we also turned to tools familiar to our graduates to support the relationships around the relational triangle and build a supportive environment within which to interact, including:
Edmodo, an online learning management system that currently houses our graduate network, as a repository for resources, a place to ask questions, and an asynchronous space for ongoing conversations related to and stemming from the learning sessions.
WhatsApp, a text and voice messaging app, to take the place of those hallway conversations we knew we would miss. We used a planning team group to quickly problem solve, check in, and celebrate moments of accomplishment. The participants' group generated excitement about the Gathering, quickly informed participants of changes in the program, and offered help via live chat.
Padlet, a collaborative digital curation space. Each presenter, and session participants, had access to a designated Padlet Wall to populate with session materials and interactive session components, empowering presenters and participants to collaborate amongst themselves around content and ideas.
The flexibility and user-end simplicity of this portfolio of tools created a collage of interactive experiences in which participants expanded their knowledge and know-how in the realm of online teaching and learning. While it was not necessarily easy, and it required us to learn how to adapt or use different online tools, we found that remaining grounded in our principles enabled us to create a gathering that lived up to our own expectations for teaching and learning.
Courageous Leaders in Relationship
Our volunteer planning team of seven graduates and leaders did not all know each other before beginning this process in late 2019. The team was intentionally chosen to represent different cohorts, geographic regions of the country, and multiple Jewish educational contexts. Yet, through our shared language, we built our own relational learning community, a learning space where our blossoming relationships directly impacted how we taught and learned from each other about professional development in online spaces. We used each other's strengths to maximize our potential, self-selecting components of the Gathering to plan, offering our areas of expertise while challenging ourselves to embrace new experiences. For example, the use of new online platforms required both the expertise of our in-house educational technology expert, as well as the courage and open-mindedness of the planning team to whom these platforms were less familiar, the latter being essential to the team's work and success. Throughout the year leading up to the Gathering, our team was invigorated by a collaborative planning process that valued experimentation, revision, and iteration while keeping our goals around connection, relationships, and learning always at the forefront.
We note the dynamics of the planning team to emphasize how important it is for leaders to focus on their own relationship building as they embark upon supporting and building the relationships of stakeholders. We believe that the success of the Gathering was fully dependent on the relationships built and held amongst the planning team. Supporting each other through a difficult year brought our participants' challenges more into focus as we planned for their professional development.
Moving Forward
This planning team has not yet disbanded. In fact, we are growing. The team has expanded to include other graduates eager to contribute to designing additional graduate learning opportunities for and with our peers. This work embodies MTEI's commitment to supporting our graduates' ongoing, active role in leading their own learning. Given what we have learned from this experience, we envision diversifying our graduate offerings, so that we have in-person, online, and hybrid opportunities for professional learning. We will continue to think carefully about how to engage participants with each other and with content well before and after the event. We will use digital tools that work across time and space, carefully and purposefully choosing only those that are easily accessible and that build relationships. The relational triangle of teacher, learner, and content exists in all learning situations; this triangle remains our compass. We have come to see that the online space is yet another context we need to be attuned to as Jewish educators.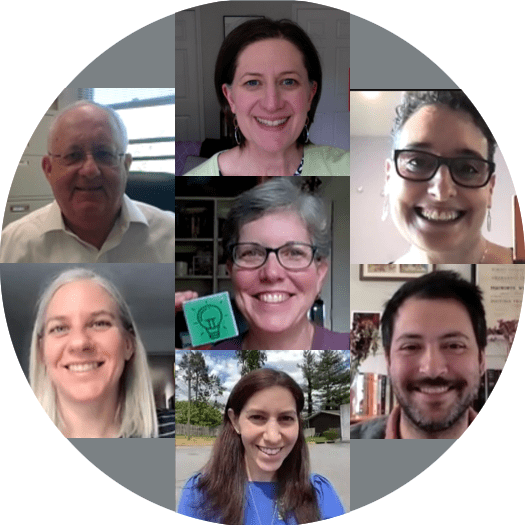 Mindy Gold is the Graduate Program Leader of the Mandel Teacher Educator Institute; Founder and Lead Consultant of EdtechMMG.
Rabbi Laura Novak Winer is the Director of Clinical Education, Rhea Hirsch School of Education at the Hebrew Union College-Jewish Institute of Religion.
Shira Hammerman is the Director of Faculty Learning and Professional Development, Jewish Educational Center.
Joel Abramovitz is the Senior Family Educator, The Kitchen. 
Robin Kahn is the Director of Education and Teen Engagement, Temple Israel of Natick; Director, Undergraduate Fellows Program, Mandel Center for Studies in Jewish Education, Brandeis University.
Lisa Klein is the Managing Director of Jewish Education, Jewish Federation of Greater Houston.
Seymour Kopelowitz is the Mandel Foundation Program Director; Executive Director of the Jewish Education Center of Cleveland.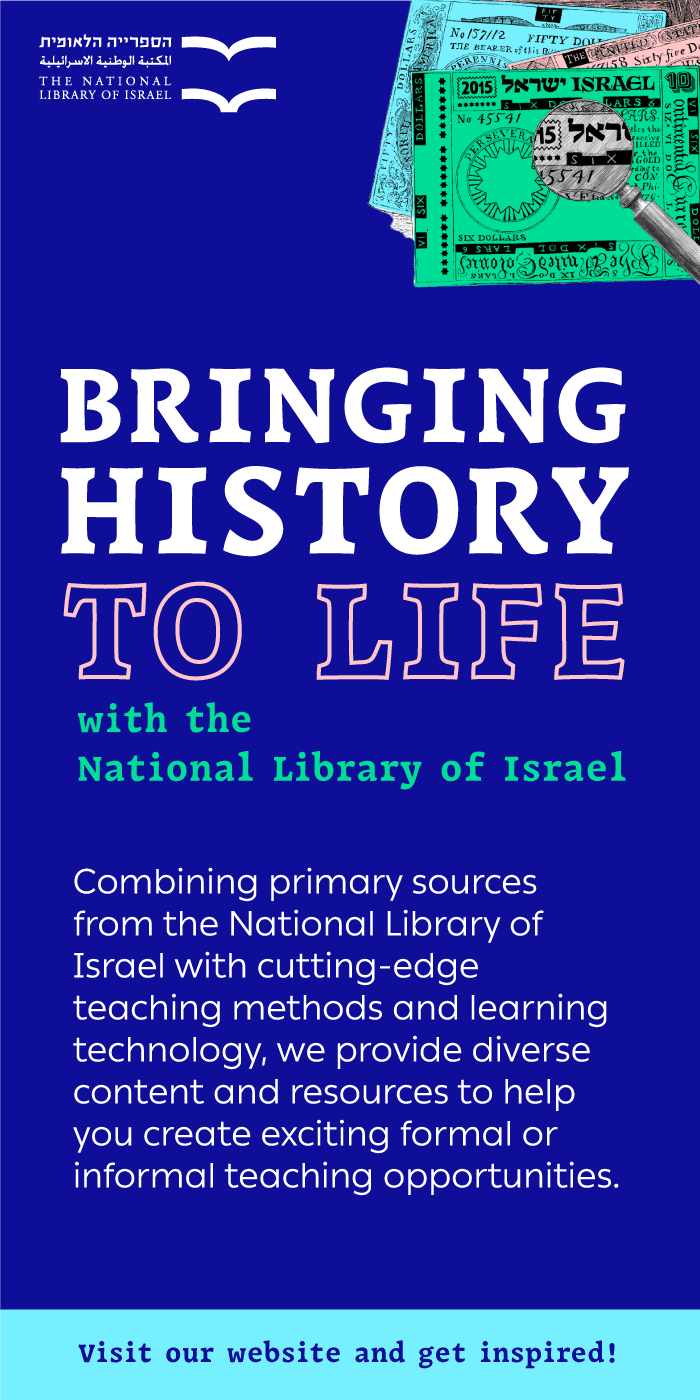 See all the previous issues of Jewish Educational Leadership