Danielle Upbin is the Associate Rabbi at Congregation Beth Shalom in Clearwater, FL as well as a Community Educator for myjewishlearing.com. Rabbi Upbin is passionate teacher of Jewish text and spirituality for all ages, a musician, and a mom of four.
An attitude of gratitude is remarkably significant in Judaism, and yet, it is easy to overlook its import in the process of growing Jewish souls. As educators, we can successfully transmit the corpus of blessings that are the infrastructure of Jewish life, and still find our students to be kind of, well…ungrateful. For many, it is their nature to feel that they have less than others or not enough, which is what makes the repeated focus on gratitude so necessary. Nobody has ever said, "I am too grateful." Even more, gratitude is bound up with so many other important middot (attributes) such as humility, joy, and interconnectedness. Focusing on gratitude as a spiritual practice enables students to grow spiritually, emotionally, and intellectually. As Rabbi Abraham Joshua Heschel remarked: "It is gratefulness which makes the soul great." But how do we get there? What is the path to creating these "great souls"? What can we do as educators to instill the spirituality of gratitude?
The following examples are presented for consideration in developing a "Gratitude Classroom," demonstrating how gratitude as a spiritual practice can enrich a Jewish curriculum of study. In my twenty-five years as an educator in many different settings, I have found that it is easy to teach and can relate to just about every subject in Jewish thought. In this article, I will provide you with some examples of how I have successfully implemented gratitude moments in my classroom experiences, which include formal Jewish day school, religious school, preschool, Jewish camping, and adult education forums. Hopefully, these ideas will inspire you to think about how to tease out gratitude moments to your own unique teaching environments.
Say It!
The Hebrew word for gratitude is hoda'ah, the same word as "announcement" or "proclamation," suggesting that the act of giving thanks requires an outward expression. It is not enough to "think" thanks, we must also give words to it. Incorporating hoda'ah (gratitude) into classroom hoda'ot (announcements) gives students a chance to share what they are thankful for that day, week, or month. The most natural place for gratitude is within the morning prayer. Be it in an informal tefillah "experience" like Shabbat family services, junior congregation, preschool, or religious school, or in more formal prayer settings like Jewish day school or summer camp, I have facilitated kavanah moments leshem hinukh (for educational purposes) or in the form of a divrei tefillah (words of prayer). One way to do this is to invite participants to connect with the "spirit of gratitude" as it presents itself in the siddur. Prayers like Modeh Ani or the morning blessings are opportune times to anchor personal gratitude to prayer. Using the siddur as a springboard for conversations, I have prompted participants to share what they are grateful for right now. Little kids call it out and have fun with it. But older students can elaborate. When possible, I have asked participants to share what they are thankful for in small groups. This is also incredibly powerful in intergenerational settings, where gratitude is expressed together as a family. I have observed smiles and the softening of body language as participants share and allow the words of the siddur to resonate with their life experiences.
Write It!
Another avenue for gratitude is daily journaling. Writing allows for the crystallization of thought. Creating the time and space for students to write, not only allows them to explore the idea more thoroughly but also creates a record for them to return to. As a classroom Judaics teacher, I have created a set time for gratitude journaling at the beginning of the day, either anchored into their "homeroom" time or at the beginning of class time. Each student is given their own "gratitude journal" at the beginning of the year that they can decorate. Each time we meet I ask them to list "five things they are grateful for right now," inviting students to be as specific as possible, writing full phrases or sentences instead of just a single word, and I ask them to be specific in their reflection. For instance, when invited to list their gratitude, instead of writing "Leah" or "I am grateful for Leah," I prompt them to record a full reflection such as: "I am grateful to Leah for holding the door open for me this morning when my hands were full! That was kind and considerate. I felt seen." Students who are inclined, draw their journal reflections for a more creative outlet.
For a deeper experience of this lesson, I have asked students to share their reflections with a "gratitude hevruta (partner)." Verbal sharing is a way for students to create common ground while instilling ancillary spiritual values such as compassion, deep listening, and connection. Sharing gratitude is a way to help students hear what is really going on in each other's lives, what is important to them, or maybe something that is going on at home that they might not otherwise have had a chance to verbalize.
I sometimes begin the exercise by guiding the students through a few minutes of quiet mindfulness meditation. I have used this technique with middle schoolers, who were a tough age group for me, but when we established the practice of quieting, listening, and writing, we built a classroom expectation, to which the students often responded well. I could see them become more anchored in the present, taking a break from their regular goofy selves, to have a calm moment.
Thank You Notes
Who couldn't benefit from learning how to write a good thank you note? With the rise of texting, short-hand, and emojis, thank-you notes are a dying art. In addition to being a valuable form of communication, thank you notes can be spiritually enriching, helping the writer express gratitude toward another person that might be harder to say in words. During the Rosh Hashanah season, when card writing is a natural part of the curriculum, I have led students in guided letter-writing exercises, giving them the tools to compose sincere notes of thanks to family members, friends, teachers, and even to God (one of my favorite prompts!), for something they received or learned in that past year. I have asked parents to include pre-addressed and stamped envelopes for their child to place their letters in. I collect them and send them out (unless they are addressed to God) or have the students bring them home.
In facilitating "spirituality courses" with adults, I have had some of the most profound experiences guiding participants to write thank-you notes to themselves or to loved ones who have passed away. I invite them to listen to their "wisest inner voice" to write reflections, advice, and word of thanks. Participants address these letters to themselves and leave them for me to send in the mail at a later date. I can't tell you how healing and meaningful this process has been for many adults who typically don't take the time to reflect and write down their thoughts in this format. And although I have not done this exercise with younger students, I can see them having fun with it, especially the part where they receive a letter from themselves in the mail!
Mindful Eating
Another path to the spiritual value of gratitude is through eating. The gratitude-oriented classroom teacher can add a layer of mindfulness to snack time or lunch. In addition to reciting traditional blessings, I have invited students to offer their individual expressions of thanks, by leading them in a "mindful eating" exercise. In most traditional school environments there is not enough time to dedicate to leading something like this every day. However, I have made it a point, for my students of all ages, to lead them in mindful eating at least once during the year. Sometimes the students have asked to do it again or have told me that it has changed the way they think about eating forever. The key is to get everyone quiet and sitting in a circle or in one gathering space where the teacher can lead the students through the exercise together. Mindful eating prompts might include guided visualizations such as:
Pause to look at the food you are about to eat and think about the following questions: What colors would you use to describe it? Notice the texture: Is it smooth, hard, soft, bumpy…? Think about the developmental journey your food has taken from seed to grocery store. Consider the natural ingredients that were tended to and harvested. Give thanks to the earth for producing these elements that went into growing your food. Think about the farmers and farms, the technology and scientists, the product packers, shippers and transporters, the local retailers, the people who purchased this food, and of course, the Holy One for making it all possible. After you have taken some time to explore the journey of your snack, recite the appropriate traditional blessing.
This mindful eating exercise works best when everyone has the same food in front of them, like a few raisins, grapes, apples, etc. But it can be done with a snack from home as well.
Since Jews pray before and after eating, there is an opportunity to guide students in a mindful Birkat Hamazon or berakhah ahronah (blessing after consumption) as well. Pausing to provide an extra layer of personal kavanah is not only a good spiritual practice but also a healthy way to recognize and be grateful for the spiritual and physical benefits derived from eating. As part of the mindful eating experience, I have guided my students with these "mindful Birkat HaMazon" prompts:
After you eat, consider three ways to channel the energy from the meal you have just consumed into positive and healthy activities.
How will you show your appreciation to God this afternoon for the blessings of the meal you have just consumed?
It is easy to take food for granted, but especially in a world where food insecurity is rampant, mindful eating and gratitude practice around food can help our students be more conscious of their blessings, connected to the source of their food, and mindful of others who are less fortunate. Through these kind of spiritual eating experiences, I have had many conversations with students of all ages, who expressed a new awareness of consumption. One student told me that if he couldn't picture the origin of his food (like many processed food ingredients), he wouldn't eat it anymore. (I'm sure his parents were thrilled!)
Shabbat
Finally, in schools where "Shabbat" gatherings are experienced at the end of the week, we have invited the school community to express their gratitude highlights. There are many ways to do this. For example, I created a "gratitude box" for the classroom into which students and teachers who feel thankful for something at any point during the week place thank you notes—either anonymous or signed. At the end of the week, the notes are pulled out and read by a teacher. I have done this effectively in a few school settings. Students like being noticed and called out for the "good stuff" they did or for ways that they contributed to a positive school environment. I love to see their faces beaming with pride for having been noticed, thanked, seen, and remembered. I see that they are more likely to be "repeat offenders" of those good deeds when they are acknowledged.
The "Gratitude Classroom" has the potential to transform the way that students perceive and experience the many blessings in their lives. The Jewish classroom is an organic and safe environment for students to foster and explore gratitude as a spiritual practice. I am grateful to you, dear reader, for your interest in this topic, and I hope that this article will spark some of your own ideas for incorporating expressions of gratitude into your classroom environment.
Danielle Upbin is the Associate Rabbi at Congregation Beth Shalom in Clearwater, FL as well as a Community Educator for myjewishlearing.com. Rabbi Upbin is passionate teacher of Jewish text and spirituality for all ages, a musician, and a mom of four.
Reach 10,000 Jewish educational professionals. Advertise in the upcoming issue of Jewish Educational Leadership.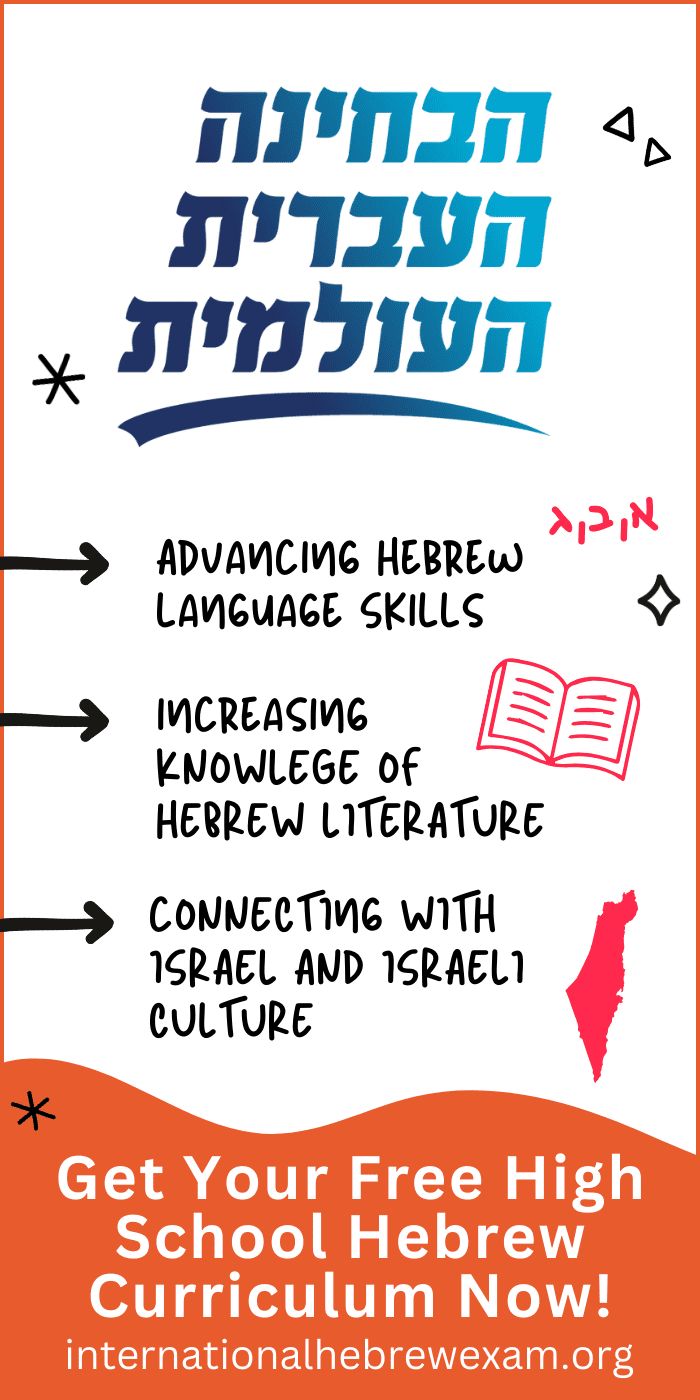 Do you want to write for Jewish Educational Leadership? See the Call for Papers for the upcoming issue.